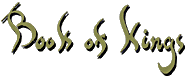 For the first time ever, Ferdowsi's 'Shahnameh' is adapted to 'pop/world music'in a uniquely personal style.
Persian mythology comes to life !


1. Book of Kings

2. Mother's Prayers

3. Silver Son

4. Jashn

5. Zal and Rudabeh

6. Rostam

7. You for Me

8. The Time for Us is Gone

9. Bijan

10. Destiny
"Book of Kings"